ESTADOS UNIDOS
La cerveza es una de las bebidas alcohólicas más famosas y no es de a gratis, esto pasa porque su precio y sabor están al alcance de todos, bueno solo las económicas, pues hay otras que solo algunos pueden probar, pues son, ¡supercaras!
La cerveza artesanal se está volviendo una tendencia, pero en este caso tal vez ha ido demasiado lejos. La cerveza más rara del mundo está embotellada en una ardilla, la fabrica BrewDog y se llama The End of History (El fin de la Historia); ah… y cuesta una fortuna: 20 mil dólares la botella.
Esa cantidad de dinero es lo que tendrás que pagar para tomar cerveza desde una ardilla disecada; pero además, te comprará una parte de la empresa.
La cervecería está en medio de una campaña para recaudar fondos, con la intención de juntar 50 millones de dólares para una nueva fábrica en Columbus, Ohio y bares en otras ciudades. Ohio recientemente amplió los límites para fabricar cervezas con alto contenido de alcohol.
Eso ayudó a tomar la decisión de fabricar la cerveza The End of History. James Watt, co-fundador de la cervecería, dice que el incentivo ha convencido a la gente en invertir.
Definitivamente hemos visto un despegue en el número de accionistas desde que anunciamos la primer cerveza. Los amantes de la cerveza artesanal en América han mostrado que quieren unirse en nuestro loco viaje. No tendríamos una cervecería sin inversionistas, y queremos celebrar regalándoles algo exclusivo que no puedes obtener de otra manera".
La campaña terminará en febrero, dijo Kendall Almerico, co-fundador, CEO y abogado de BankRoll, la encargada de llevar la campaña. Las inversiones comienzan desde los 95 dólares.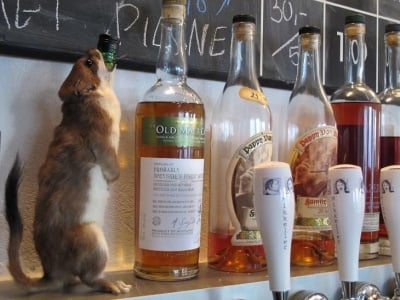 La cerveza es la más rara del mundo, en su primera edición en 2010 solamente se fabricaron 12 botellas. Para hacerlas lo más distintivas posibles, BrewDog trabaja con un taxidermista y pone la botella dentro de la ardilla. La cerveza es arte, todo en esta cerveza es distinto a lo que estás acostumbrado, es no convencional y rompe los límites. Está diseñada para hacerte pensar distinto sobre lo que bebes… es decir, ¡está embotellada en una ardilla!".