Todos hemos visto la película "En Busca de la Felicidad". Aquí la verdadera historia de Gardner.
Fue a comienzos de los años 80, cuando Gardner, en ese entonces de 27 años, y su niño vivieron en la calle durante un año en San Francisco, California.
Empleado con sueldo mínimo en un programa de capacitación en una empresa de corredores de bolsa, no tenía suficiente dinero para pagar el depósito de arriendo de un apartamento.
Así que Gardner, que estaba separado de su pareja, y su hijo Chris Jr dormían donde pudieran.
Además del baño en una estación de tren, encontraban donde dormir en parques, refugios en iglesias o debajo de los escritorios de la oficina, después de que todos se hubieran ido a casa.
Se alimentaban en comedores de beneficencia y el poco dinero que tenía lo usaba para pagar una guardería que cuidaba a su hijo mientras él iba al trabajo.
A pesar de las adversidades, Gardner prosperó en su trabajo. Tenía un instinto natural para vender activos y, al final del período de capacitación su firma, Dean Witter Reynolds (DWR), le dio un empleo de tiempo completo.
Ya con medios para su arrendar una casa para él y su hijo, su carrera ascendió rápidamente hacia alturas inimaginables y, en 1987, abrió su propia compañía de inversiones, Gardner Rich.
Hollywood golpea a la puerta
Hoy en día, Gardner tiene 62 años, una fortuna estimada en US$60 millones, viaja por el mundo dando charlas motivacionales y patrocina una serie de organizaciones de beneficencia para los sin techo y contra la violencia hacia las mujeres.
El hecho que Gardner tuvo una muy difícil niñez y que estuvo en la cárcel poco antes de su pasantía en DWR puede explicar por qué Hollywood se interesó en la autobiografía que escribía y que se convirtió en un éxito de ventas The Pursuit of Happyness («La búsqueda de la felicidad»).
La película del mismo nombre se lanzó en 2006, con Will Smith, que recibió una nominación al Oscar de Mejor Actor por su interpretación de Gardner.
En retrospectiva, Gardner dijo a la BBC que «no cambiaría nada» de su vida.
«Tuve que pasar dolores de niño para que mis hijos no tuvieran que sufrirlos», expresó. «A los cinco años tomé la decisión que mis hijos conocerían a su padre».
«El resto de mi destino me llegó porque tomé las decisiones correctas».
Madre inspiradora
Gardner nació en Milwaukee, en estado de Wisconsin, pero nunca conoció a su padre.
Fue criado en medio de la pobreza por su madre Bettye Jean y un padrastro alcohólico que lo maltrató físicamente.
También pasó un período de tiempo en un hogar adoptivo después de que su madre, en un ataque de desesperación, intentó matar a su compañero.
A pesar de las dificultades en su niñez, Gardner aseguró que su madre fue una inspiración.
«Tengo una de esas madres enchapadas a la antigua que me decía todos los días, 'Hijo, puedes ser o hacer cualquier cosa que quieras'», comentó.
«Y le creí y quedé convencido 100%».
Añadió que un día, de niño, estaba viendo un partido de baloncesto universitario en TV y comentó que uno de esos jugadores llegaría a ganar un millón de dólares.
«Mi madre declaró: 'Hijo, un día tú serás el que haga un millón de dólares'. Hasta que ella dijo esas palabras, la idea nunca había cruzado mi mente».
Encuentro casual
El millón de dólares no llegó inmediatamente y, después de graduarse de la escuela secundaria, se enroló cuatro años en la Marina de EE.UU.
Después de recibir una baja honrosa en 1974, Gardner se trasladó a San Francisco, donde empezó a vender equipos médicos.
Su vida cambió por completo cuando un día vio a un hombre estacionando su Ferrari rojo y Gardner le preguntó a qué se dedicaba.
El hombre era un corredor de bolsa llamado Bob Bridges y, después de conversar un poco con él, Gardner expresó un interés en incursionar en ese ámbito.
Se reunieron otra vez y Bridges le ayudó a Gardner lograr una entrevista para una pasantía.
Sin embargo, en los días antes de la entrevista en DWR, Gardner fue arrestado y encarcelado por no pagar sus multas de estacionamiento.
Eventualmente pudo llegar a la entrevista pero sólo vestido en la ropa que tenía puesta cuando lo arrestaron, que incluía un par de zapatos tenis y un chaleco.
A pesar de su facha desaliñada, su empuje y entusiasmo fueron suficientes para ganarle el puesto.
Reevaluación de la vida
Seis años después del estreno de la película, la vida de Gardner cambió otra vez en 2012, cuando su esposa murió de cáncer a los 55 años.
Eso provocó un reevaluación de lo que quería hacer con su vida y, después de tres muy exitosas décadas en finanzas, decidió efectuar un completo cambio.
«En unas de las últimas conversaciones que tuvimos ella me dijo: 'Ahora que podemos ver lo verdaderamente corta que puede ser la vida, ¿qué piensas hacer el resto de tu vida?'».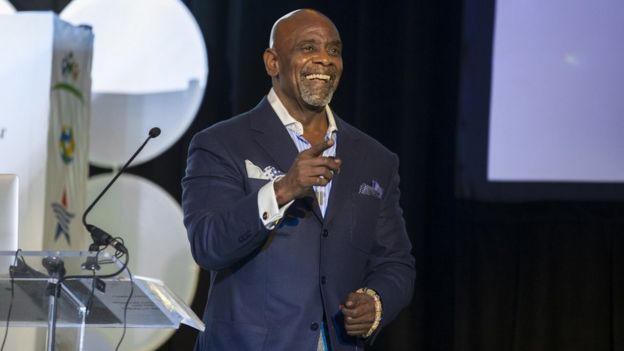 «Cuando tienes una conversación así, eso cambia todo. Yo he dicho que cuando no estás haciendo algo que te apasiona, estás comprometiendo tu ser todos los días».
Al darse cuenta de que no quería seguir trabajando en la banca de inversión, se reinventó como un orador motivacional y autor.
«Increíble testamento»
Ahora pasa 200 días del año viajando por el mundo dando charlas a auditorios llenos en más de 50 países.
Scott Burns, director de la firma de inversión estadounidense Morningstar, dice que Gardner es «sencillamente un increíble testamento de fortaleza».
Y añadió: «Uno puede caer y quedar tendido pero solo tan bajo como uno mismo lo permita».
Gardner cree que él es prueba contundente contra la teoría de que todos somos producto de nuestro entorno.
«De acuerdo con esa escuela de pensamiento, yo debí haberme convertido en otro pobre diablo alcohólico que golpea a su esposa y maltrata a su hijos».
En cambio, dice que tomó sus propias decisiones positivas gracias al amor de su madre y el apoyo de otras personas.
«Escogí la luz, de parte de mi madre y de otros con los que no comparto una sola gota de sangre, y la acogí con brazos abiertos».